Welcome...
Thank you for visiting the ALL NEW Birmingham Bagpiper Version 2.0! Ryan Morrison is Alabama's only fully Professional Ceremonial Bagpiper and is available for hire for weddings, funerals and memorial services, anniversary parties, birthday parties, recitals and educational demonstrations, and any festive event that may call for a piper!
If you need a piper, Ryan is hands down the best choice for your event. A professional musician and entertainer, instructor, composer and arranger, award-winning soloist, and the Pipe Major and musical director of an award-winning pipe band, piping is not just Ryan's livelihood, it is his life. Don't trust your special day to a hobbyist, hire a professional and rest easy.

Ryan travels the region, covering all of Alabama and even parts of Florida, Georgia, Mississippi, and Tennessee. He can meet your every need and honor most every request. He can even be commissioned to compose a tune to commemorate your special event!
Should you require more than one piper, whether a trio, mini-band, or a full pipe and drum band, Ryan can easily accommodate. As the Pipe Major and Musical Director of the Ian Sturrock Memorial Pipe Band Ryan and his band can provide entertainment for your Burns Night Supper, your St Patrick's Day Party, your Christmas Parade, or any other event. The Ian Sturrock Memorial Pipe Band is proudly sponsored by GUINNESS®, The Official Beer of ISMPB. Please drink responsibly.

How to Use This Site...
Let's get started. If you are visiting this website, you may:
Wish to hire a piper for a Wedding, Funeral, or Other Event
Want to learn the bagpipes and you are looking for a teacher
Already be a piper and you are browsing the web for more interesting bagpipe-related content
Here at birminghambagpiper.com I am to fulfill all of these needs. Simply use the links above to navigate the site. If there is other content that you would like to see here, please email me and let me know.
Hire a Piper. If you need to hire a piper, follow the Weddings and Funerals links above. I am also available for all types of other events. On these pages you will be able to review a full price list for all of the services I offer. Once you are satisfied with your selections, simply follow the link to the Booking page to begin the booking process. I will respond to all inquiries within 24 hours. Want to make sure I'm the man for the job? Please listen to some sound samples.
Bagpipe Lessons. If you are interested in taking lessons for the bagpipes, read more about my Bagpipe Lessons. For those of you interested in long-distance learning, I offer Web-Lessons using Skype.
Already a piper? Please visit Piper's Corner which contains various topics of interest pertaining to pipers, including articles I have written, periodic PIOBCASTs, Bagpipe Web-Lessons on Demand, and free sheetmusic of my own arrangements of traditional music for the pipes.
Questions? Comments? Please email me.

Some Press...
In 2007, Ryan's photo appeared in the July 22nd issue of the New York Times. He had piped at the wedding of Elizabeth Bradley and MTV VJ and Birmingham-native Alan Hunter on July 7th. Here is the picture from the paper. To view the entire online article, click here.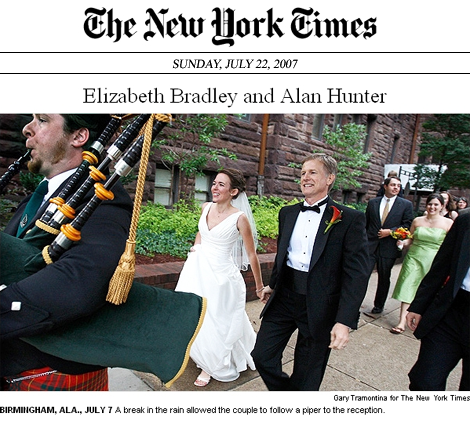 View more photos of Ryan in action in the Photo Gallery.